Configuring Paazl in Magento 2
Configuring Paazl in Magento 2
This article explains how to configure Paazl's Checkout widget extension in Magento 2.
To access the Paazl Checkout Widget configuration page, log into Magento 2 Admin and go to Stores > Configuration > Sales > Shipping methods.

Most of the settings speak for themselves, but those which require a bit more work or background are explained below.
Note
Next to some options, you will see a check box enabling you to "Use system value". The value that will be used is the one that you have configured in Magento 2 Admin as displayed under "Store View".
Note
For both the "Country of Manufacture" and "HS-code" settings, you can either select the values defined in a particular product definition, or you can type in your own value. To type in your own value, select "Use static value" from the drop-down menu. A new field will appear in which you can specify the value you want.
Note
"Default method title" and "Default method name" are displayed by Magento 2 in various parts of the application. The name is specific than the title. In some places, Magento 2 only displays the title; in some places it displays both.
Authentication & authorization
Paazl maximizes the security of your webshop's order process by using three-legged OAuth 2.0 authentication in which the "API Secret" (private key) is only known to your webshop. Your customers can only access the "API Key" (public key).
See Authentication & Authorization for an explanation of how Paazl's three-legged OAuth 2.0 authentication works and how to generate API keys.
Checkout widget style
Paazl has a number of predefined widget styles that you can use to match your webshop branding. The following values are available:
"DEFAULT"

"MINIMAL"

"GREEN"

"LIGHT-GREEN"

"BROWN"

"BLUE"

"RED"
However, Paazl also lets you specify your own customized body and header fonts, font sizes, weights, colors and borders. The Checkout widget styling parameters listed in Paazl's Online Support can be copied and pasted to the Magento configuration page and then edited. Styling the Paazl checkout widget provides visual examples of what each parameter does.
The steps below explain how to customize the widget's style.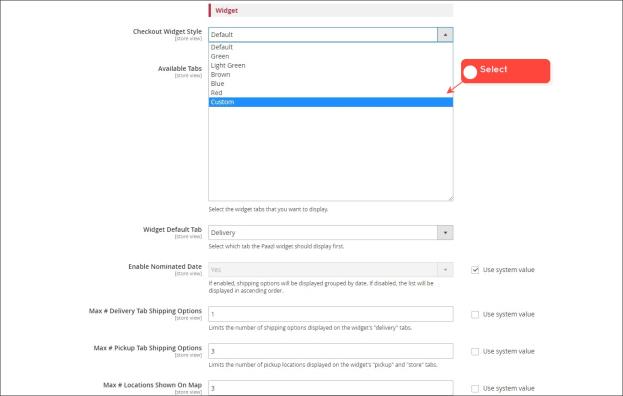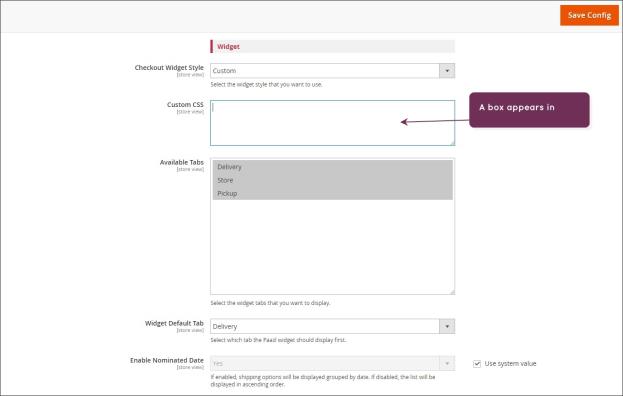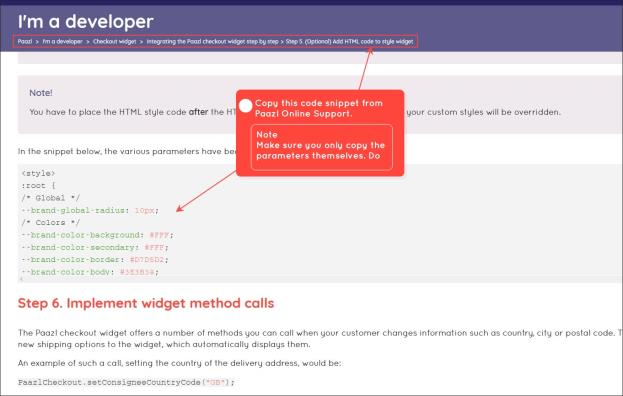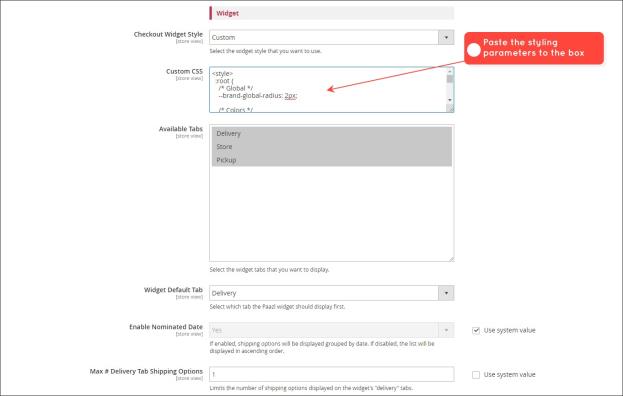 Fallback shipping option
Lower down the "Shipping Methods" page you will see other shipping options. These are the options that appear in the "Use Shipping Option Fallback" drop-down menu.
Customized shipping option names
Use the "Shipping options" section of the Paazl Perfect configuration page in your web app account to give shipping options your own (localized) names.
Locale
Paazl supports both ISO 3166-1 and ISO 3166-2.
Is there a One Step Checkout used?
Use this setting to optimize the Checkout Widget for the use of the One Step Checkout plugin.